Window Cleaning
We offer internal & external window cleaning services for residential properties, we can also get to those hard to reach windows.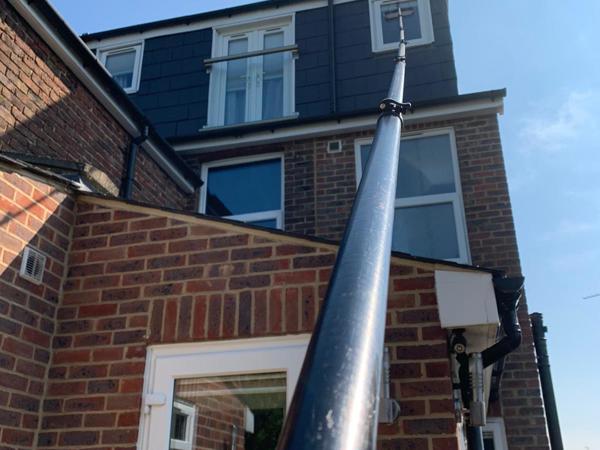 Internal window cleaning:
Internal window cleaning can also be carried out upon request. We will always wear shoe covers to protect your carpets and floors. For internal window cleaning we use traditional methods to clean the window; mop, squeegee, scrim cloths etc.
Reach and wash window cleaning:
Reach and Wash window cleaning or as it is also known, water fed pole window cleaning is a method of cleaning windows that allows us to work from the safety of the ground. The majority of windows are cleaned nowadays using this method because of the increased safety aspect.
The advantages of reach and wash window cleaning are:
 Windows that were previously inaccessible can now be cleaned. I.e. Windows above a conservatory.
 Using water fed poles allows us to work much higher than is possible using ladders. We are able to clean Windows up to 4 stories in height.
 Increased privacy for residents.
 Safety is increased for both the operative and the customer.
 Less risk of damage to your property.
 The reach and wash system is much better at cleaning window frames than cloths.
Windows stay cleaner for longer
The Way it Works
The water fed pole system works by taking tap water and purifying it into pure water. This pure water is then transported in a tank located in our van to your property, where it is then pumped up a pole that has soft brush on the end and used to scrub and rinse the window clean.
The reason the water has to be purified first is because if you were to do the same thing with regular tap water, once dried would leave the window covered in spots. The spots are the minerals and impurities in regular tap water such as calcium, potassium, etc.